Pastor Hope Sibson joined Wheatland in June 2016 as our interim, or "Transitional Pastor" after a ten-year pastoral ministry at Central Presbyterian Church in New Lenox, IL. A native of the Midwest, Pastor Hope grew up in the hills of Appalachia and went to school in Tennessee. A former teacher, Hope earned her M.Ed. in New York City where she met her husband Steve, who was involved locally in neighborhood ministry.
After marriage, the cou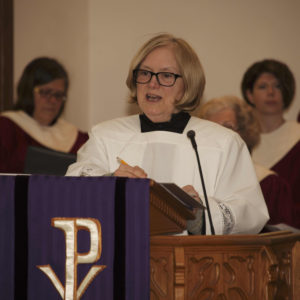 ple moved to Montana where Steve Sibson worked as pastor of a small congregation in the middle of the Wasatch Mountain Range. It was there where their two daughters were born. After a return to New York and extended tenures of pastoral ministry for Steve, Hope attended seminary herself, eventually leading to Steve's retirement and allowing Hope to seek a call wherever God led them. The result was a return to the Midwest.
In 2012, Pastor Hope became interested in the Transitional Ministry program of the Presbyterian Church (U.S.A.) and attended training in New Mexico, where she learned how important transitional ministry is to the Church. Says Pastor Hope: "Transitional ministry marks the end of an era. Most people dislike change, but the end of an era brings with it a lot of adjustments. Rather than avoid those adjustments, I choose to help bring congregations through the chaos and confusion to a new creativity. I want to help them get ready to embrace the future and their new permanent pastor."